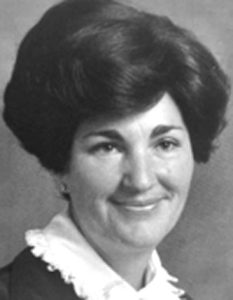 Janice Mae Ralphs was the second child of six born to James Albert Ralphs III (Jay) and Helen Lorene Nelson, on Nov. 9, 1939. She was raised in the beautiful Rockland Valley where she went to school and graduated from Rockland High.
She married her high school sweetheart Robert Dean Freeman in the Idaho Falls LDS Temple on Aug. 22, 1958. They raised their family of five children in Idaho, living and making lifelong friends in Grace, Firth, and then retiring back in the Rockland Valley.
Janice loved raising her children and made it her full-time career until her youngest entered school. At that point in time she went to work as a secretary at the Firth Middle School. Upon retiring, Janice and Bob served Missions for The Church of Jesus Christ of Latter-day Saints in New Mexico, Albuquerque, Idaho-Pocatello, Family History Center, Idaho Falls Visitors Center, and Martin's Cove.
Janice's greatest joy came in serving her family and others, baking award winning loaves of bread to deliver to friends and family. She also loved flowers and would plant petunias to beautify her yard and then find a bed or pot to plant within the community she lived in. She had a beautiful voice and loved to sing, especially the hymns as they shared her testimony of Jesus Christ. Janice loved to be outdoors enjoying a sunset, going on a picnic, or working in her yard. She also loved to read and do family history work.
Janice is survived by her husband of 64 years, Robert (Bob); children, Danese (Jim) Lothspeich of Pocatello, ID, Pauline (Steve) Dial of Boise, ID, Kent (Samantha) Freeman of Demorest, GA, and Lance (Terri) Freeman of Rockland, ID; her 19 grandchildren and 21 great-grandchildren who are her pride and joy; brothers, Eldon (Charmaine) Ralphs of Burley, ID, and Dan (Linda) Ralphs of Rockland, ID; sisters, Ilene (Carl) Haskell of American Falls, ID, and DeeAnn (Ron) Farr of Rockland, ID; brothers In-law, Gary (Peg) Freeman of Athens, AL, and John (Janice) Freeman of Chrystal Springs, MS.
Janice was preceded in death by her first child, Rocky Dean Freeman when he was 16; her parents, Jay and Helen Ralphs; father and mother In-law Lawrence and Averl Freeman; and brother, Robert (Nancy) Ralphs.
Funeral arrangements are under the direction of Wilks Funeral Home.
A viewing will be held from 6 to 8 p.m. on Friday Sept. 23, at Wilks Funeral Home, 211 W. Chubbuck Road, Chubbuck, ID. A funeral service will be held at 11 a.m. on Saturday Sept. 24, at The Church of Jesus Christ of Latter-day Saints, 405 E. Shoshone Street, Rockland, ID, with a visitation prior to the service from 10 to 10:45 a.m. A webcast of the service will be available under Janice's tribute page at www.wilksfuneralhome.com.
Memories and condolences may be shared with the family under the "Tribute Wall" tab.